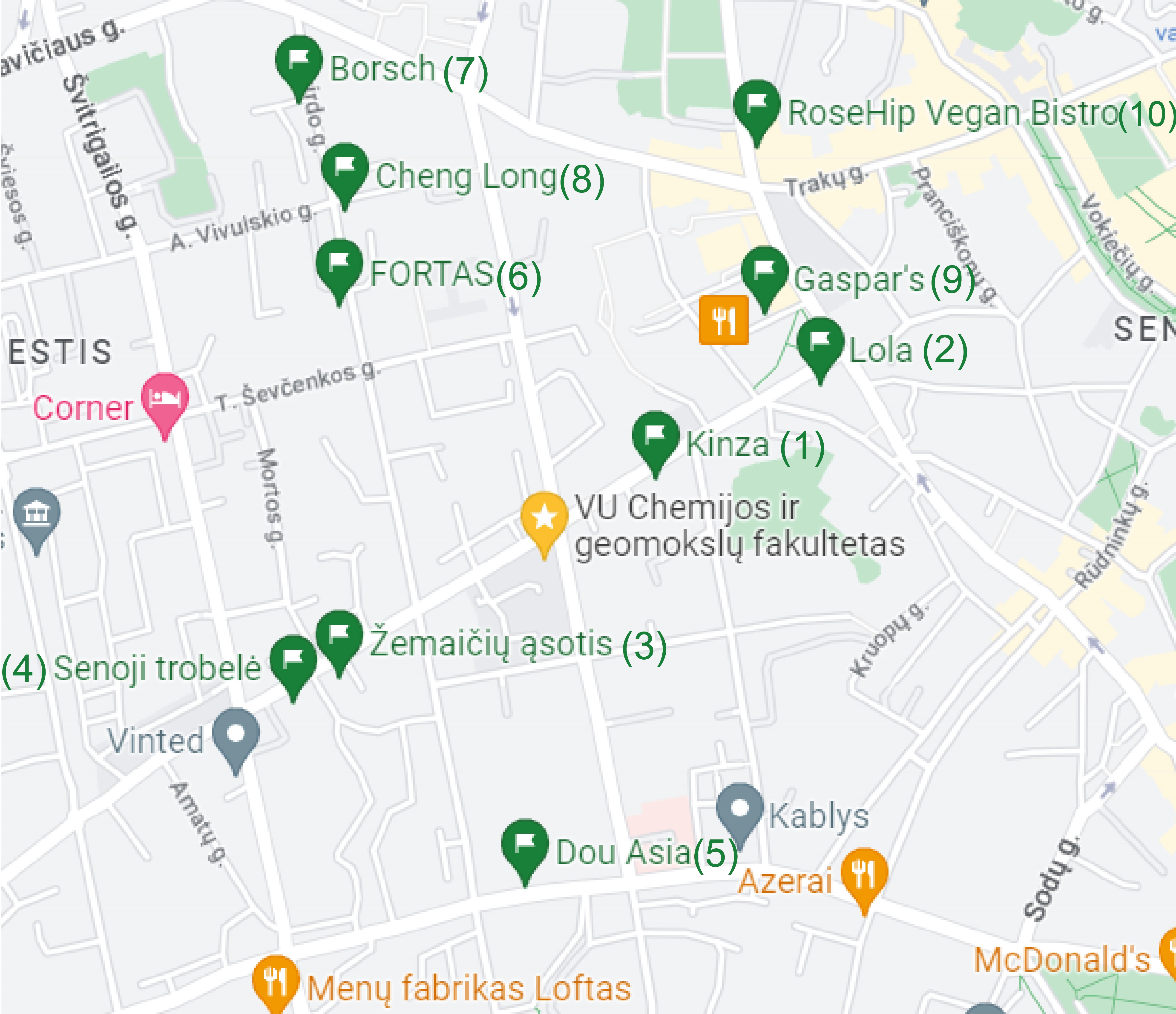 (1) "Kinza" is a cozy and homely restaurant. They serve excellent middle eastern food, ranging from authentic Uzbek pilaf to delicious dumplings while also providing fantastic vegetarian options.
Price range: €€
(2) "Lola" a place for people who enjoy eating breakfast food. They provide excellent, light toast and egg dishes that everyone can enjoy.
Price range: €€
(3) " Žemaičių ąsotis" promises a time tested Lithuanian cuisine focused on the Žemaitija region. You will find here dishes of Lithuanian heritage made from the oldest recipes and notes of the family elders.
Price range: €
(4) "Senoji trobelė " A cozy little restaurant serving the best in Lithuanian cuisine with a beautiful patio where you can enjoy traditionally made zeppelins, vegetarian dumplings with spinach, potato pancakes, meat and fish dishes, and tasty snacks.
Price range: €€
(5) "Dou Asia" is a hole in the wall type place, however provides a nice and cozy ambiance inside the small restaurant. They specialize in delicious Asian Bao, wok and bowl dishes that always contain fantastic flavors and freshness.
Price range: €€
(6) "FORTAS" For over than 25 years the restaurant offers its customers the world's favorite dishes. By organizing the so-called 'cuisine days', FORTAS constantly introduces the foods and cuisines of different countries – Czech, Italian, Belgian, Spanish, German, etc. As such you can always expect to experience new foods when you visit it.
Price range: €€
(7) "Borsch" is a restaurant with delicious food, relaxed environment, excellent customer services and, what is important, with reasonable prices. Ukrainian cuisine offers a vast range of traditional soups, Борщ! famous homemade dumplings and many other Ukrainian dishes. It is perfect for people who want a big and hearty meal.
Price range: €€
(8) "Cheng Long" prides itself on the authenticity of its Chinese cuisine. Here you can find delicious dishes made from pork, chicken, duck, lamb, beef and even sea food made by their Chinese chefs.
Price range: €
(9) "Gaspar's" restaurant is recognized as one of the best restaurants in Lithuania. The devotion to their culinary heritage, and the ability to demonstrate passion through food allows the chef and owner to make incredible food that everyone can enjoy.
Price range: €€€
(10) "RoseHip Vegan Bistro" is famous for the excellent and tasty vegan food it serves while also having a uniquely pink interior.
Price range: €€